http://www.merrycoz.org/books/riddle/RIDDLE.xhtml
The Riddle Book (New Haven, CT: Sidney's Press, 1826)
-----
[cover?]
THE
RIDDLE BOOK.
SIDNEY'S PRESS, NEW-HAVEN.
———
1826.
-----
[two blank pages]
-----
[frontispiece]
-----
[title page]
[title page text:]

THE
RIDDLE-BOOK.
FOR THE
ENTERTAINMENT
OF
BOYS AND GIRLS.

[illus of musical instruments and a book]
———

SIDNEY'S PRESS, NEW-HAVEN
———
1826.
-----
[copyright page]
Published by J. Babcock & Son, New-Haven, and S. Babcock & Co. Charleston, S. C. who keep constantly for sale a good assortment of Books and Stationary.
-----
p. 5
RIDDLE BOOK.
———

My friend and I from home did part,
Of whom I had some way the start;
So on we ran, ten miles or more,
And I same distance was before:
Now tell me how that this could be,
As I ran twice as fast as he.
-----
p. 6
-----
p. 7
Sometimes I have sense, sometimes I have none;
Sometimes I offend, then you bid me begone;
Sometimes I am merry, sometimes I am sad;
Sometimes I am good, sometimes very bad;
However, to make me, I cost many brains,
Much labour, much thought, and a great deal of pains.
-----
p. 8
-----
p. 9
My form is beauteous to the ravish'd sight,
My habit gay, my color gold or white.
When ladies take the air, it is my pride
To walk with equal pace close by their side,
And, though no powdered beau, beau-like converse,
And in set speech I give an answer terse:
I near their person constantly remain,
A fav'rite slave bound in a golden chain;
The seaman by me plough the ocean wide,
Longitude measure, and latitude divide;
And though I can both speak and go alone,
Yet are my motions to myself unknown.
-----
p. 10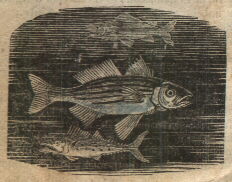 -----
p. 11
Though it be cold, I wear no clothes,
The frost and snow I never fear;
I value neither shoes nor hose,
And yet I wander far and near:
My diet is forever good,
I drink no cider, port, nor sack,
What Providence doth send for food,
I neither buy, nor sell, nor lack. [sic]
-----
p. 12
-----
p. 13
Four wings I have, which swiftly mount on high,
On sturdy pinions, yet I never fly;
And though my body often moves around,
Upon the self-same spot I'm always found,
And, like a mother, who breaks her infant's bread,
I chew for man before he can be fed.
-----
p. 14
-----
p. 15
In me behold the height of human art,
Hear what to me the elements impart:
My origin I owe to mother earth,
She was the midwife forwarded my birth;
She gave me wings, and added to my voice,
And Neptune made me his peculiar choice;
To me committed his dominions vast—
Jove wav'd his sceptre, and the fiat pass'd;
I took possession without more delay,
And ride the liquid empire to this day.
-----
p. 16
-----
p. 17
I'm dreaded by a num'rous race,
That travel o'er the fields;
And in each mansion find a place,
Where oft I move their heels;
Nor can restrain my longing eye
Whene'er a pretty linnet's nigh;
And, once within my grasp, they find
The nature of my tyger mind:
No more they plume their flutt'ring wing,
Or sweetly to their mistress sing;
But in an instant I devote
Their beauties to my hungry throat.
When young, I'm gentle, active, mild;
In playful mood, I please the child;
A hunter am, at catching good,
And charm the swallow from her brood.
-----
p. 18
-----
p. 19
How many hundreds for my sake have died?
What frauds and villanies have not been tri'd?
And all the grandeur which my race adorns,
Is like the rose beset with thorns;
Nay when possess'd, such the enjoyments are,
I to my owners trouble bring, and care.
E'en those, by whom I am so highly priz'd,
If good, are hated; and if bad, despis'd:
Thus, twixt the plague of getting me, and losing. [sic]
By some I'm thought not worth a wise man's choosing.
-----
p. 20
-----
p. 21
Through all my days, I've sore been prest,
And trampled under feet;
Stranger alike to joy and rest,
Or liberty so sweet.
At length, I'm gone and quite decay'd,
And nought can me condole;
For he whose power and wisdom made
Me—cannot save my sole!
-----
p. 22
-----
p. 23
Emblem of youth and innocence,
With walls inclos'd for my defence,
And with no care opprest;
I boldly spread my charms around,
Till some rude lover breaks the mound,
And takes me to his breast.
Here soon I sicken and decay;
My beauty lost, I'm turn'd away
And thrown upon the street;
Where I despis'd a vagrant lie,
See no Samaritan pass by,
But num'rous insects meet.
Ladies! contemplate well my fate,
Reflect upon my wretched state!
Implore the Almighty aid,
Lest you (which heaven avert) like me
Should come to want and misery,
Be ruin'd and betray'd.